Medical immunology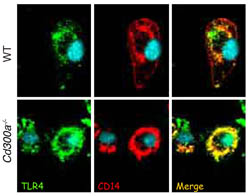 Shibuya Project
The immune system is crucial to human survival. In the absence of the immunity, even minor infections prove fatal. The immune system is also involved in the pathogenesis of autoimmune diseases, allergy, cancer, and rejection of organ transplantation. It is therefore important to understand the immune responses. Our laboratory focuses on the study of molecular and cellular bases how the immune system protect us from these intractable diseases.
Research Project
Medical Immunology
Akira Shibuya, M.D., Ph.D. (Professor, TARA Center)
We identified several novel immunoreceptors, including DNAM-1 (CD226), MAIR (CD300), Fcα/µR (CD351) and Allergin-1, which are involved in the development of allergy, cancer, inflammation or autoimmune diseases. Our goal is to clarify the function of these molecules in immune responses and to develop new therapies for the intractable diseases.