Establishment of the Life Science Center for Survival Dynamics, TARA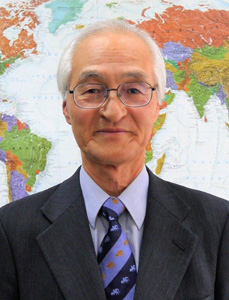 Center Director
Jun-Ichi Hayashi
Establishment of the Life Science Center for Survival Dynamics, Tsukuba Advanced Research Alliance (TARA)
Initiated by Nobel laureate Leona (Leo) Esaki, the Tsukuba Advanced Research Alliance (TARA), University of Tsukuba, was founded in May 1994 and was later reorganized into the Life Science Center of Tsukuba Advanced Research Alliance in October 2010.
In April 2018, the center was renamed the Life Science Center for Survival Dynamics, Tsukuba Advanced Research Alliance (TARA) with the goals of promoting the study of biological dynamics and expanding research on "biological survival strategies," or dynamic responses to environmental changes as a product of cellular or individual genetic information or signaling functions that have yet to be unraveled.
Health, diet and medicine are fundamental to human life, but are also closely tied to various problems we face surrounding global warming, plummeting biodiversity, aging populations, low birth rates and reproductive medicine, and it is not an overstatement to say that the solutions to these universally held crises lie dormant in the biological sciences. The ambitions of this center are to uncover mysteries about life forms, such as responses to environmental cues, defense and evolution to excavate the latent survival strategies of organisms as keys to sustainable development and harmony between humans and the environment.
TARA focuses on studies on metabolism, immunity, reproduction and circulation through analysis of three-dimensional structures such as receptors, nuclear factors and informational molecules, inter-factor interactions, and their inhibitory mechanisms to further develop the functional analyses of proteins and regulatory factors (low and high molecular weight) that control various biological phenomena.
Understanding biological survival strategies advances basic science and medical technology, and is in line with the national policy to extend healthy life expectancy. This quest in basic scientific research aspires to reconcile humans with the environment, and through sustainable development and phenomena such as latent responses of organisms to the environment, defense and evolution, to contribute to a society that relies on renewable and recyclable resources.
TARA announces to progress forward from the traditional vertical divide between fields such as medicine, biology, agriculture, pharmacology and health sciences, to construct a dynamic and innovative research system through mutual coordination that aims for achievements that respond to the needs of the new era.
Director of TARA Center, Jun-Ichi Hayashi, Ph.D.